For this week's episode, as part of our two-week publishing series, we had Professor Chris Green of Big Shoulders books to discuss the world of publishing, editing and the new release from Big Shoulders: "I Remember: Chicago Veterans of War."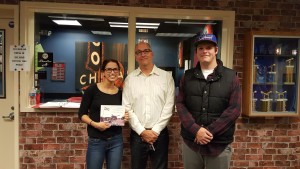 Unfortunately, due to technical difficulties, we were not able to record the show. However, we strongly recommend you read and buy not only this book, which deals with gripping first person accounts from veterans of war, but all of the other literature Big Shoulders Books has produced. Big Shoulders is a DePaul publishing outlet, which uses DePaul professors and students to work in conjunction to release one book every year on a Chicago specific subject. Below is their website where you can find out more information about this wonderful publishing outlet and their newest release:
http://bigshouldersbooks.com/emi-remember-chicago/
You can listen to Scrawl radio every Friday from 11am-noon on the Radio DePaul and through the Radio DePaul app.
Be sure to check the UCWbL out on Facebook, Twitter, and Digication!