Welcome back Scrawl Nation! For this episode of Scrawl, we delved into the world of comedy writing and collaboration.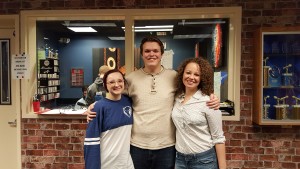 Ryan and Kate welcomed Shelby Enlow to discuss Comedy Writing. Shelby explained her background in Comedy, such as interning at iO Chicago, and her past work Second City and the Reductress.
Shelby also discussed forms of collaboration when writing for comedy, and its writing process.
Ryan and Kate discussed the Rhetoric of Pop: a moment where a top ten hit on the Billboard Hot 100 is analyzed. This week featured Justin Bieber's "Love Yourself."
Previous episodes  are streamable through iTunes by searching and following DePaul UCWbL. You can listen to Scrawl radio every Friday from 11am-noon on the Radio DePaul and through the Radio DePaul app.
Be sure to check the UCWbL out on Facebook, Twitter, and Digication!