Welcome back Scrawl Nation! For this episode of Scrawl, we delved into the rhetoric of conspiracy theories.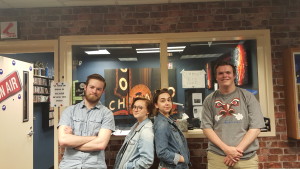 Ryan, Kate, Brendan, and their guest, Katie M., discussed the rhetoric behind conspiracy theories, such as what makes them so believable and yet so easy to crumble.  They shared some of their favorite conspiracy theories, including the snake people, and why it works so well.  Also, our correspondent, Michele L., shared another reading of a long form prose poem, "How to be a Witch," from Elizabeth Gaughan.
Ryan, Kate, Brendan, and Katie M. discussed the Rhetoric of Pop: a moment during the show where a top hit on the Billboard Hot 100 is analyzed. This week featured Drake's "One Dance."
You can listen to Scrawl radio every Friday from 11am-noon on the Radio DePaul and through the Radio DePaul app.
Be sure to check the UCWbL out on Facebook, Twitter, and Digication!