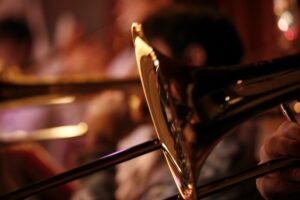 DePaul is a big deal for lots of reasons.  Besides having one of the largest writing centers, staff-wise, in the history of the world (I'm totally serious), we also have a world-class music school and a stellar jazz studies program, our neighbors in McGaw Hall.
Now the question is, if you're a jazz student, do you take final exams?  I actually have no idea.  But I think this has something to do with why, each quarter, the jazz studies program puts on several nights of performances in the DePaul Recital Hall.
From what I've seen, the combos are excellent.  The turnout is generally modest, too, and the recital hall itself a little hidden away from non-music school people, so it makes for a refreshing escape from the city, especially at this time of year when the outdoors doesn't have much to offer.  Finally, it's completely free of charge with no ticket necessary, so check them out and see what your classmates are up to.  It's good stuff.
Monday, March 4, 8 PM
Wednesday, March 6, 8 PM
Thursday, March 7, 8 PM
See all the music school's events here.