Hello Scrawl Nation! We took a little break for summer, but now we're BACK! We wasted no time getting into fascinating territory today by discussing the upcoming nationwide Banned Books Week. DePaul has several on campus events to celebrate, and we talked about them in detail today!
First things first: Theresa Bailey is joining the Scrawl Team for the Autumn Quarter! She is bravely and admirably filling in for Megan Deppen, Rima Mandwee, and Mariah Woelfel as they all study abroad this quarter! Welcome, Theresa!
For our first episode of the quarter, we brought on Carolyn Rudinsky and James Neiman , outreach graduate assistants from the UCWbL, as well as Heather Jagman from the DePaul Library to talk about Banned Books Week. And did you know that the UCWbL in partnership with the library won a grant from the Freedom to Read foundation in order to help fund some of these awesome events?
After playing some Word of the Day and talking about the history of banned books week a little, we dug into talking about the fantastic upcoming events at DePaul for Banned Books Week.  You can check out the flyer below for the details of the events themselves!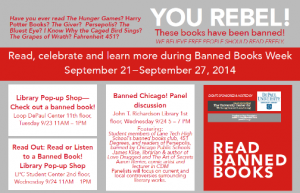 So many great events! And, as we highlighted frequently during the show, GLAZED AND INFUSED DONUTS will be at many of these events!
We played America's Favorite Game "Why Was This Banned?" where Theresa and Brandon asked our guests to make guesses as to why some surprising books were banned. Can you guess why Harriet the Spy or Merriam-Webster Dictionary were banned? Tune in to find out!
Be sure to check the UCWbL out on Facebook, Twitter, and Digication! You can listen to this podcast by clicking here or clicking the stream player below!