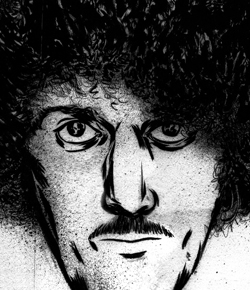 Gil Tanner, an UCWbL tutor and veteran of the DePaul Theatre School's playwriting program, will premiere his newest work A Tribute to Thick Leonard at the Greenhouse Theater (2257 N. Lincoln Ave., Chicago) on May 10th.  The Theatre School has this to say about it:
Rita, a former roller derby queen and ex-leader of an all-female Thin Lizzy tribute band, tries to save the last chance Irish pub she owns from going under. When her niece Molly returns from serving in Iraq, Rita hatches a quixotic plan to turn Rita's pub into the "entertainment capital of Central Florida." A Tribute to Thick Leonard is a hilarious rock-and-roller derby dark comedy- a southern gothic Three Sisters about crazy American dreams.
Curious to know more, I sat down with Gil to talk about the play's origins.
UCWbLing: Can you explain a little bit about where this idea came from?
Gil Tanner: "They approached me in 2011 to create something that would be part of the theater's season this year.  I knew they were doing Measure for Measure this same trimester, which requires a lot of men, so I deliberately wrote a play with a bunch of females."  Aside from that, I just thought Thick Leonard would be a funny name for an all-female Thin Lizzy tribute band.  It just sort of exploded from there.
U: Very interesting.  Can you say something about what it was like trying to compose while knowing there were all these cast considerations you had to keep in mind?
GT: Well, it actually made it easier, because women can say anything that men can, but they can also seduce better than men, so really you have even more options in terms of the actions they can do.  And also it's just funnier when they make inappropriate jokes, like we've seen with Bridesmaids.  Really from there it was just about juggling the stories of five different women and two men–that was aggravating and still is.
U: OK, cool, so what would be one of the biggest challenges you had in getting the story off the ground?
GT: Definitely the size of it, and trying to keep it within a 2-hourish limit, while trying to give everybody their own moments and story arc.
U:  How did it go trying to write a roller derby into the play?
GT: You do see one character on roller skates, and luckily the set allows her to skate around.  Most of the roller derby is off-stage, but to make up for it, you do see a hallucinatory rock show.
U: OK, so who were some influences in putting this project together?
GT: There are a lot.  Martin McDonagh, Tracy Letz, in a weird way Lynn Nottage, Sarah Kane in a strange way, too.  And now, more recently with the rewrites, Annie Baker.
U: Cool.  Is there a production you've seen in Chicago in the last year that you were particularly blown away by?
GT: I saw a great play called When the Rain Stops Falling, and that similarly takes about nine different people and within an hour and a half, two hours you get a strong arc out of all of their interactions.
We're pretty excited to see how all of these come together in A Tribute to Thick Leonard. As Gil himself says, "I promise you a thrilling night of theatre, or I will personally refund every cent of your ticket price. That being said, tickets are absolutely free."
You can reserve your tickets in advance by calling (312) 922-1999.  The play previews on Wednesday, May 8 and Thursday, May 9 at 7:30 PM, and runs May 10-May 19, Wednesday-Saturday at 7:30 PM and Sunday at 2 PM.