Hello Scrawl Nation! This week's episode of Scrawl Radio was all about SNL. And while this SNL doesn't have Tina Fey or Amy Poehler as alumni, the DePaul School for New Learning (SNL) does amazing work!
Joining us as guests on the show this week were SNL professor Steffanie Triller Fry and UCWbLer (and SNL alum!) Edward Evins. We asked both guests to talk a little about the SNL in general and its history. Then we got down to business!
The SNL itself is for students aged 24 and up, so we talked about the unique strategies and writing styles these students use, as well as some good tutoring strategies for working with SNL students (here's a hint: good tutoring is good tutoring no matter who you work with!). We also talked about about the SNL's upcoming Month of Writing where the goal is for everyone participating to write a million words over the month of October!
Another fantastic event the SNL is putting on in honor of the Month of Writing is the Craft of Composing panel. Check out this flyer for information about the event!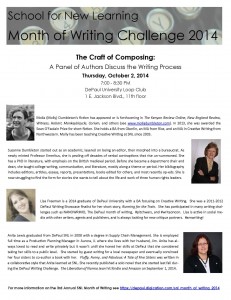 We played America's Favorite Game today called "How Well Do You Know SNL?" where our guests heard facts and had to guess if we were talking about DePaul's SNL or the TV show Saturday Night Live. The results were pretty surprising!
Finally, we had one of our better rhetoric segments ever today! We returned to the Rhetoric of #1 segment and, today, analyzed the #1 song in America, "All About That Bass" by Meghan Trainor. If you haven't heard the song, check it out below, and be sure to listen to our podcast for a robust discussion of gender roles, heteronormativity, and rhetorical devices in this song!
You can listen to the podcast today by clicking here or clicking the streaming player at the bottom of this post. Be sure to check the UCWbL out on Facebook, Twitter, and Digication!