Hello Scrawl Nation! This week's episode on Scrawl was devoted to the Peer Tutor Mentor Summit, which is coming up next Friday!
This week we were joined by the Outreach Graduate Assisstants, James Neisen and Carolyn Rudinsky.  After a quick reintroduction, since both of them have already joined us on Scrawl, we did our first section, word of the day. We followed that up with our first song, "We are Going to be Friends," by the White Stripes.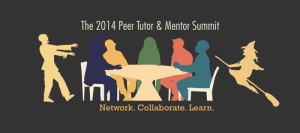 After our lovely song about friendship, Carolyn and James talked us through the Peer Tutor and Mentor Summit: they gave us all the details about the food, round robin events, key speaker, and costume contest. Now in it's fifth year, the Summit is bigger and better than over. We can't speak for everybody, but here at Scrawl we know we're excited! Listen to the podcast below to hear James and Carolyn share all the details, or check out their digication page.
After the influx of Summit knowledge, we played America's Favorite Game, "Bobbing for Apples to Apples," where we played some lightning rounds of Apples to Apples. We finished off the episode by rhetorically analyzing "Monster Mash" by Bobby Pickett. It was a smashing success.
You can listen to the podcast today by clicking here or clicking the streaming player at the bottom of this post. Be sure to check the UCWbL out on Facebook, Twitter, and Digication!