Tutors at the UCWbL understand the importance of having an appealing portfolio. The art of crafting a portfolio is reader based. We must question "How do we make our reflections and thoughts appealing to the writer browsing our Digication Portfolio"? We find that adding media is one of the simplest and most effective ways for us as tutors to serve our fellow writers.
What??? Pictures in place of words? Isn't adding color, pictures, and videos lazy? Aren't we failing to access our full potential when we captivate readers using these mediums rather than our pure wit? I would say, no.  Those who say yes may not understand the creative assessment required to attain media that is interesting and relevant. In fact, using media in our writing often requires more work. We are challenged with finding a photo, video, or link that provides substance that is relative to what we are writing, and  it must have visual appeal. When we think about our purpose when writing, we are writing to serve the reader. Videos, pictures, and even link directories can advance a writer's understanding of what we're discussing.
Hopefully pointing out this contributing factor to the use of multimedia does not turn you away from utilizing it, but makes you intrigued. As writers, we are often trying to think of a way to SAY something with our writing. Should we instead ask ourselves to think of a way to SHOW something? The answer we must face is that sometimes we can't present our ideas through words alone. We occasionally have to use media to ASSIST in the development of an idea.
While I could list multiple benefits to using multimedia, you would quite frankly would lose interest. So, I will display the benefits to better help your understanding.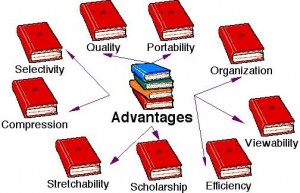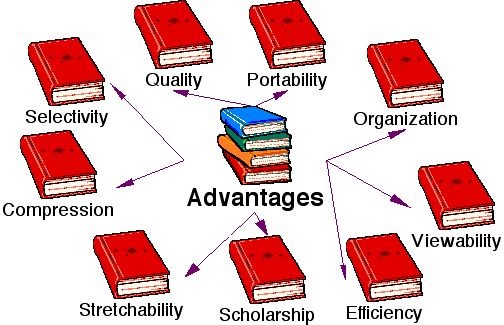 Now, wasn't that much more fun to look at? If you are still reading, then it worked.
In the new era of technology advancement and use of online portfolio platforms, the use of videos and pictures is becoming professional, rather than lazy. Now that we have this advantage of technology at our disposal, shouldn't we use it? This software was designed for a purpose. We should use this access we have to help serve our readers.