Hello Scrawl Nation!
On last week's episode of Scrawl, we focused on the Peer Tutor and Mentor Summit.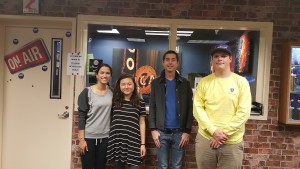 James Neisen of the DePaul Writing Center's Outreach team appeared to discuss the upcoming Summit, such as who the participants are and the purpose of the summit.
We also had Maya Sato on, a participant in the Peer Tutor and Mentor Summit last year. Maya conducted a round robin at last year's summit and came to discuss how she became involved with the summit, the process of creating a round robin, and the challenges of being a tutor and mentor.
This week also saw the return of our favorite segment, the Rhetoric of Pop. During this segment, we take a top hit from the Billboard Hot 100 and perform a rhetorical analysis on the lyrics. This week featured 679 by Fetty Wap feat. Remy Boyz.
This week's episode is streamable through the player at the bottom of this post. You can listen to Scrawl radio every Friday from 11am-noon on the Radio DePaul and through the Radio DePaul app.
Be sure to check the UCWbL out on Facebook, Twitter, and Digication!