I'll admit, I am a Pinterest junkie. Most might identify Pinterest as a hub for DIY (do-it-yourself) projects. That is true, but it's also a handy source for helping you live your life. For those who don't know how Pinterest works, it produces user-generated content from thousands of sources (mostly blogs) and then categorizes everything from gardening, DIY crafts, fitness, parenting, etc. Anything that could connect to your life is there at your fingertips.
Working at the UCWbL, or even as a student, can sometimes be stressful. And the perfect prescription for this problem is the Pinterest drug to help balance your life as a tutor at DePaul (or wherever you might be tutoring). Here are a few tips from Pinterest that can change your life on organizing.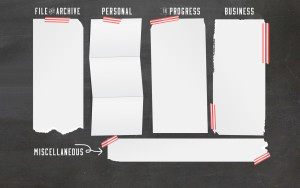 Has your interest been piqued? Then check out Pinterest yourself. These tips are just a small handful of what you can find. Stay tuned in for next week on the next installment of Pinterest Your Life: UCWbL Style. The next topic will be… *drum roll* Staying Focused!