Welcome back Scrawl Nation! For this episode of Scrawl, we delved into the rhetoric of sports and sports writing.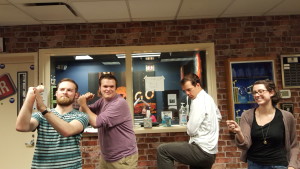 This week Ryan, Brendan, and Michele L, welcomed Chris A, a former blog writer for ESPN and public address announcer for DePaul, to discuss the rhetoric of sports and sports writing. Chris detailed how one approaches sports from a journalistic perspective, social media in sports, and  the do's and don't's of writing about athletes. Michele, our correspondent, brought in another poem, this time read by Jack Murphy, "Steph Curry is my Favorite Player," for our weekly poet series.
Ryan, Brendan, Michele, and Chris discussed the Rhetoric of Pop: a moment during the show where a top hit on the Billboard Hot 100 is analyzed. This week featured Mike Posner's "I Took a Pill in Ibiza."
You can listen to Scrawl radio every Friday from 11am-noon on the Radio DePaul and through the Radio DePaul app.
Be sure to check the UCWbL out on Facebook, Twitter, and Digication!