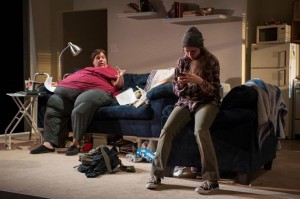 Wikipedia tells me that the Pacific Gray whale swims between 10,000 and 14,000 miles a year, but in Samuel D. Hunter's play The Whale we never go so far as outside the protagonist's soiled living room.  That's because Charlie, the play's hero, is a house-bound, 600-lb. English teacher for an online Idaho college.  What's worse, we learn he's quickly dying of heart failure.
Running at Victory Gardens Theater through May 5, the play draws its title from a rumpled copy of a student essay about Moby-Dick that Charlie keeps on him at all times.  He even has it committed to memory, because, he says, it's the only piece of "honest" writing he's ever read.  "It got a bad grade," he explains, "but it's a great essay."
Charlie's struggle to elicit such honest, unfiltered writing from his students parallels his desire to reconnect with his estranged daughter Ellie, a senior in high school.  Sensing his end is near, Charlie embarks on a race against the clock to reintroduce himself to Ellie, who strikes a deal with him: she'll come by to visit if he agrees to write her English papers for her.  But Charlie, who delights in talking about writing, any writing at all, is more interested in Ellie's hate blog, thrilled with her ribald and insulting posts about her teachers, classmates, and even her father Charlie himself.  With his days numbered, he fights for Ellie to see what he sees–the redemptive power of discovering your very own voice in writing.  The proof of this power is in the stunning revelation of the play's climax.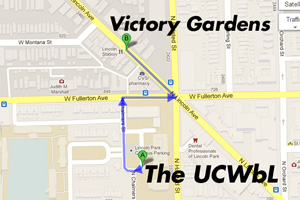 The Whale features first-rate performances from Chicago theater veteran Dale Calandra and north-side native Leah Karpel (pictured left and right above).   And just in case you're wondering what a play review is doing here on UCWbLing, if the whole writing part wasn't obvious enough, Victory Gardens is less than a block away from our Lincoln Park office!  So let The Whale convince you of the importance of writing, and our tutors can help you with the rest.
[Photo by Michael Brosilow]