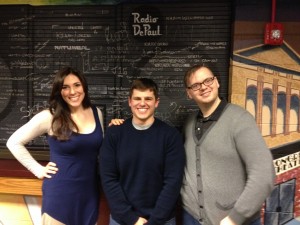 Hello Scrawl Nation! For this week's episode, Scrawl welcomed fellow UCWbLer Mark Lazio, who is currently the coordinator for the Collaborative for Multilingual Writing and Research at DePaul.
While we were in the studio, we talked to Mark about his experiences working with writers at Gordon Tech College Prep. Several Peer Writing Tutors (from the UCWbL) have gone over to the high school to help writers outside the DePaul community. To help show how tutors can help high school writers, Kevin brought in a piece of writing (which compares schooling to dog training) from his senior year of high school and Mark worked with him on revising his work.
If you want to learn how to work with high school students on their writing, then you should check out this episode!
Check us out on Facebook, Twitter, and Digication!
 Click to listen (right-click and "Save Link As" to download)!
Original Air Date: 1-24-14