With summer quickly approaching, we here at the UCWbL would love to share with you some of our top recommendations for good summer reading.  Over the next few weeks, we will be featuring staff members' favorite books, blogs, magazines, and publications that you can add to your summer reading lists!
Today, check out tutor Kate's top two picks…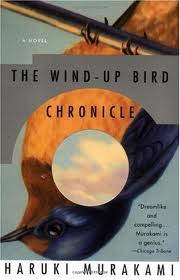 THE WIND-UP BIRD CHRONICLE by HARUKI MURAKAMI
A good read for… This book crosses numerous genres over and over. Science fiction, philosophy, fantasy, history, coming-of-age – a little something for everyone!
Synopsis… Like all great things, this novel starts out focusing on a cat. From there, things get crazy – in a dreamy, surreal sort of way. Multiple storylines move you quickly through this seemingly longer book. By the end, I bet you're mind will be blown!
So why is this a staff pick? While I love all of Murakami's novels (and even some of his non-fiction), this one remains my favorite of his works. It is the first book I ever read that gave me a very visceral reaction to its use of gruesome description!
CAPTAIN OBVIOUS  – MUSING ON MUSIC, FILM & LITERATURE

What is it?  While the subheading of Captain Obvious's blog is "Musings on Music, Film & Lit" it is pretty much solely a music blog, offering descriptions of newer (or newly uncovered) indie & lo-fi music, complete with .mp3's to help you come to your own conclusions about current offerings!  
Who should check it out?  Folks in love with lo-fi indie music who looking for a way to discover new music of this variety. 
Kate's favorite thing… My favorite postings from Captain Obvious are the Monthly Mixtapes (featuring newly or soon-to-be released tracks from both better known and totally obscure artists) and the Covers Mixtapes (featuring awesome, often otherwise difficult to find covers of your favorite classic and contemporary jams by your favorite indie & lo-fi rockers). Not only does Captain Obvious provide links to the individual .mp3's of these tracks, but also a handy .zip file to download and enjoy these mixtapes in their entirety on your own!!