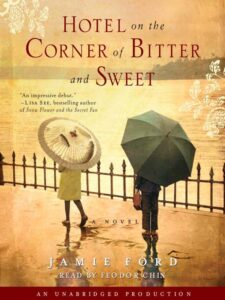 Students from all corners of the world have joined the CMWR in reading Hotel on the Corner of Bitter and Sweet, Jamie Ford's bestselling and award-winning novel.
The CMWR was joined by international students from the English Language Academy, various masters programs, and ELA faculty in launching the book club on September 21, and so far, we're all very excited about our book choice.  Our participants, a group of enthusiastic English language learners and native speakers alike, have been reading eagerly for the past several weeks.  Hotel on the Corner of Bitter and Sweet combines history and mystery with a story of a young and forbidden love between a Chinese-American boy and a Japanese-American girl during World War II.  Henry and Keiko, unified by the tormenting that they face at their otherwise all-white school, forge a strong friendship even as a war that they have little to do with threatens to come between them.  At the same time, an older and widowed Henry begins searching for the remnants of Keiko at the Panama Hotel in Seattle.  Why were they separated?  Will they ever reunite?  What will Henry find in the dark basement of the Panama Hotel?  We'll have to keep reading to find out!
The autumn book club will conclude this Friday, November 9th.  Stay tuned for information about next quarter's book club!