What a better way to break up the mid-Monday doldrums then attending CMWR's quarterly Walk and Talk! Last quarter, the Collaborative for Multi-Cultural Writing and Reading visited the historic Prairie District neighborhood in the South Loop on a mild October afternoon. Once considered the poshest location in Chicago, the Prairie Avenue District has some of the finest examples of 19th century architecture that the city has to offer, including Chicago's oldest residence, the Clark House Museum.
Starting the tour at the corner of Cullerton and Michigan, we visited the Second Presbyterian Church. Damaged in 1900 by a disastrous fire, the Gothic-Revival style Church features nine Tiffany windows. After admiring the exterior of the Church, we walked along South Michigan Avenue until we came upon the Chess Records studio.
Immortalized in the Rolling Stones song, 2120 South Michigan Ave, Chess records studios was responsible for releasing and producing blues and jazz albums by artists like Muddy Waters, Chuck Berry, and Bo Diddley.
After leaving Chess Records, the Collaborative made it's way to the historic Henry B. Clarke house. Built around 1836, the house is considered the oldest house in Chicago, and is surrounded by the Chicago Women's Park and Gardens. The garden, which celebrates the contributions that women like Jane Addams have made to the city of Chicago, provided a perfect spot to sit and enjoy some Garrett's popcorn.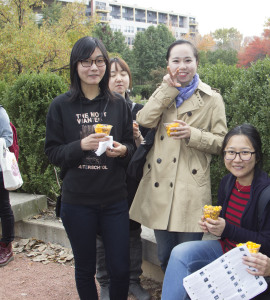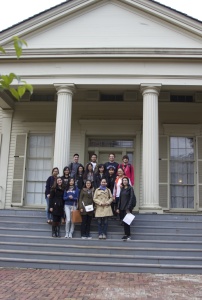 Many of the CMWR members and Walk and Talk participants were especially interested in the sculptures surrounding the Clark House Museum. Titled "Helping Hands", the sculptures were designed by Louise Bourgeios in order to represent the importance and humanity of activist Jane Addams.
As the popcorn dwindled and the cold wind picked up, the Collaborative made its way back to the DePaul Loop Campus, marveling at how much of the original Prairie Avenue neighborhood had been preserved and how different it seemed to the surrounding Loop area.
If you're looking to explore Chicago with the CMWR, join us in this quarter's Walk and Talk event! We'll be exploring the Garfield Park Conservatory on February 2nd and 3rd from 3-6pm.  If you want any more information about the CMWR or our events, check us out on Facebook or send us an email at cmwr@depaul.edu.