This past week, the UCWbL Outreach team UCWbLoved facilitating our writing center's participation in #BlueDemonWeek2015! We were also really impressed by the response from UCWbLers and wanted to share some of the fabulous highlights of the week.
Excercising our crafting know-how, the Outreach team created cut-outs of demon heads on which people wrote their answers to the prompt "Why We UCWbLove Being Blue Demons." The demon heads were taped on the windows of both of our offices to show the UCWbL's school spirit. Here are some of our favorites:
UCWbLers also answered the prompt "Why We UCWbLove Being Blue Demons" on one of the white boards in the Lincoln Park UCWbL office.
Also, those of the Outreach team who were on campus the Thursday of Blue Demon Week wore blue to show our spirit, then Tweeted a photo of us for #BlueThursdays.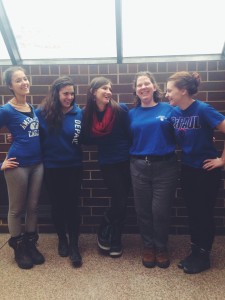 Outreach team members wearing blue for #BlueThursdays. From left: EDGE Intern (and honorary Outreach team member) Andra R., and Outreach team members Emily Pa., Carolyn R. (also an Outreach GA), Bryndahl W., and Theresa B.
Overall, we had a blast participating in Blue Demon Week 2015. Go Blue Demons!
~ Carolyn R. and the UCWbL Outreach Team