In Conversation & Culture yesterday, one partaker pointed out that Chicago doesn't really have anywhere to gather, at least not in a way he expected. New Year's Eve came and he was let down to realize that there was no collective gathering aside from the eight o'clock fireworks at Navy Pier. Why didn't Chicago's 2,707,000 citizens come together and celebrate? For many locals this question might not make sense. "What do you mean? We were all with our friends." You might receive a response like this, which speaks to the Chicago social experience, and further to the metropolitan American experience at large. But before we approach the way of life here, we would benefit from some international understanding.
In many European, Asian, South American, and Middle-Eastern countries, expansive city centers draw locals in to celebrate holidays, protest unjust government, and share in religious expression, among many other purposes. Whether referred to as square, plaza, maidan, place, or platz, large open areas have long offered the opportunity for whole cities to unite under common cause. The reason for their creation varies significantly by city, but it holds true that many famous squares are founded around political, religious, cultural, and economic institutions. Born from rich histories, for many countries collective gathering in city squares is an inherited social norm that has carried into the 21st century.
One classic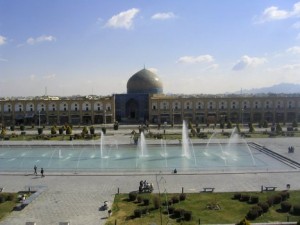 example of a well-planned and long inhabited square is the Maidān-e Naqsh-e Jahān (Image of the World Square) in Isfahan city, Iran. In 1598, Shah Abbas wished to consolidate the power of the Persian Empire around his own court. Surrounding the square were the Masjed-e Shah (Shah Mosque), the Imperial Bazaar, and the Ali Qapu Palace.  With the political, mercantile, and religious centers of Persian culture all in one place, it naturally attracted Persians within and beyond the city of Isfahan, thus becoming a place of meeting.
Looking at many other countries we see similar occurrences, and the results are aesthetically beautiful, architecturally powerful. Imagine walking through St. Peter's Square;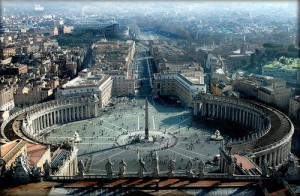 the sheer size of the basilica and its many statues are enough to inspire, but what's more is the energy of history that pervades the entire location. Centuries of Roman Catholic dominance were directed from this very location.
Now we're in Tiananmen Square and you're standing before the Monument to the People's Heroes. Exactly where you are standing, Mao Zedong proclaimed the People's Republic of China. Years later in 1989, massive student protests erupted against corrupt government. Though the past has come and gone, when major social events take place, their location gains magnetism.
America has locations with great social magnetism: Disney World, Times Square, Hollywood, in Chicago we have the Loop as a whole. Our history is not without political protest nor is it lacking in national celebration, however it is relatively short and was nurtured during the industrial revolution. Capitalist desire and pop-culture creation have guided the American experience, and as such, our social centers revolve around consumption. The student at Conversation and Culture spoke of Navy Pier; this is a perfect example with its endless stores, movie theaters and rides. From my experience, downtown Chicago (comprising the Loop and the Magnificent Mile)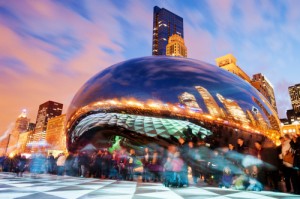 is the true consumption center of Chicago. Recognizing that this is our location of collective experience, and not an open square with political, social, and religious significance, it comes as no surprise that we rarely unite in mass gathering. For that it seems the average American requires intense motivation.
Chicago is a city of multiple, fragmented personalities and social circles. From one angle it is true that the collective experience is lacking. But the reason may not be that Chicagoans – or Americans at large – are simply opposed to celebrating together. I find it more likely that because there are such diverse groups of people and interests in the city, people tend to find a smaller more specified social group where they feel comfortable and remain there. So when major events like New Year's Eve come around, it only makes sense to celebrate with the people you feel understand you most. No we don't have squares, and honestly it would be inspiring to feel like the whole city came together more often, but that is not how many American cities have come to exist. Recognizing the city as it is, it seems we should listen to what my friend Eric says, "Get in where you fit in."
————————–
Photo credit:
Tiananmen Square Mural by A. Signl
Bean Lights by ygchan on Flickr