Hello Scrawl Nation!
This episode of Scrawl is a special Halloween installment with Ryan McQueeny as lead host!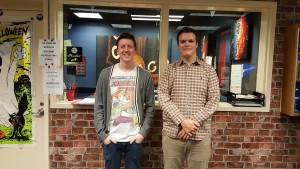 His guest for this Halloween special is Head Writing Center Tutor, Jake Dinneen. For this episode, Jake appeared to share Writing Center horror stories, from staying at the Writing Center till 11pm, to spilling tea on himself, and the collapse and destruction of a certain conference room table. Ryan and Jake also played found real-time, unearth, never-before-listened to audio, of the table collapsing and the aftermath.
During the second segment, Ryan and Jake performed a one-time addition to the show, The Rhetoric of Horror. Jake and Ryan found a scary story to read on-air and then performed a rhetorical analysis of just what makes this story so terrifying.
Our long time listeners know, during this season we've taken current pop songs and have attempted to perform a rhetorical analysis of their lyrics. As a change from our ever-popular segment, Rhetoric of Pop, this week rather than play a current hit from the Billboard Hot 100, we played a classic hit. Thriller.
This week's episode is streamable through the player at the bottom of this post. You can listen to Scrawl radio every Friday from 11am-noon on the Radio DePaul and through the Radio DePaul app.
Be sure to check the UCWbL out on Facebook, Twitter, and Digication!