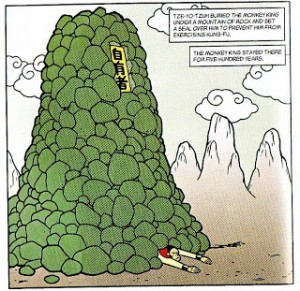 In last week's Book Club reading of American Born Chinese the monkey king learned an important lesson of self-acceptance. After spending half a millennia under a boulder, the monkey king finally overcomes his stubbornness and learns to accept himself as the cute butt-kicking monkey he is. One of the Chinese characters featured in the story was the character for fate. This prompted one of our regular book club members to give the group a mini mandarin lesson in which he broke down the character for fate into separate parts meaning "people", "own", and "obey". He explained that these three things reflected the belief that once a person accepts themselves for who they are, they become able to face their fate.
This opened a great discussion about fables and their influence on the self-esteem of children, which somehow, by Book Club magic, led to a brief discussion about Breaking Bad. The Book Club group had a lot of questions about the reasons behind Walter White's madness (don't we all?), and in trying to explain his motivations we stumbled into a great conversation about the American dream and its fallibility. Many Book Clubbers expressed confusion about how widespread homelessness is in a country they believed to be infinitely wealthy.
This brought up an incredibly relevant and complex discussion about the stigmatization of homelessness and the difficulty of breaking through the poverty line. Many of the Book Club members spoke about their experiences with homelessness and suggested different solutions to combat homelessness in the city. We discussed the paradox of wanting to help combat the homeless problem in cities but not wanting to encourage dishonest begging. Some Book Clubbers viewed poverty or homelessness as a result of laziness but many of them argued that poverty was the result of many different circumstances, which were out of a person's control. Living in Chicago has provided many of the book club members with a greater perspective and a more nuanced understanding of poverty and homelessness. Do you all feel like living in a major city has impacted the way you view poverty and laziness?
The Book Club will be finishing up American Born Chinese today and next week.  If you are interested in joining in on the fun, stop by today or next Friday in Lewis 1719.  And as always, email us at cmwr@depaul.edu with any questions!
By: Monisa and Jenn