Welcome back Scrawl Nation! For this episode of Scrawl, we delved into the world of parenting and collaborative agenda setting.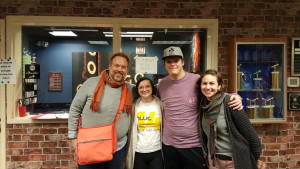 Ryan and Kate welcomed Kate Derrick and Matthew Pearson to discuss parenting and collaboration. Matthew and Kate share their thoughts on "What they Take with Them," a study examining what traits former tutors felt they had received from tutoring. They also discussed collaboration between parents, such as when each parent takes which responsibilities, collaborative agenda setting with their children, and how much the wide expansion of books on parenting have influenced their viewpoints on the subject and practice.
Matthew and Kate also shared their thoughts on the implications of associating one's children to social media accounts, parenting core beliefs, transparency when setting collaborative agendas, and how parenting helps them in their work at the Writing Center.
Ryan and Kate discussed the Rhetoric of Pop: a moment during the show where a top hit on the Billboard Hot 100 is analyzed. This week featured Rihanna and Drake's "Work".
Previous episodes  are streamable through iTunes by searching and following DePaul UCWbL. You can listen to Scrawl radio every Friday from 11am-noon on the Radio DePaul and through the Radio DePaul app.
Be sure to check the UCWbL out on Facebook, Twitter, and Digication!