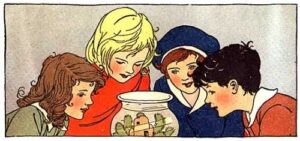 I walked into my first Digication workshop terrified. Well, terrified may be too strong of a word – but I was definitely nervous and with good reason.  The idea of getting up in front of an entire classroom was intimidating. As a peer writing tutor, you get accustomed to working with one writer, face-to-face – there's no need to command the attention of an entire classroom, no need to make sure everyone is on task, and no need to make sure that everyone understands. Moreover, it was my first Digication workshop and I was going at it alone. Although I had prepared and gone over each section of the lesson plan multiple times, as 25 pairs of eyes looked up at me – some dazed, some mildly interested, and some patiently waiting to start – I began to wonder if I was even qualified to be up there. Sure, I could put together a pretty decent portfolio myself. Modules? Pages? Banners? Not a problem! However, just because I had the skills to maneuver the e-portfolio platform didn't mean that I could teach those skills successfully and effectively to the group of WRD 103 students before me. But as I got started and the nerves slowly settled – I began to see how my skills developed as a peer tutor over the last few years could be transitioned and modified to become effective workshop tools.
For example, a central part of my tutoring philosophy is that every writer is different and therefore learns in his or her own unique way. As a result, I need to be a creative and adaptive tutor – critically considering context, styles of learning, and strategies. I need to have a variety of methods in my tutoring toolbox that can expand ways in which I help a writer. The same concept directly applies to workshops. First, the workshops themselves are designed to reach all learners – providing a universal and multi-modal approach to learning through visuals, hands-on activities, discussions, practice, and feedback. Giving the workshops, I needed to be as universal, creative, and adaptive in my delivery, playing off the group of students and finding different ways to draw them into the material.
Another peer tutoring skill that I've developed and found helpful in the workshop setting is patience. Patience in revision is not only a necessary trait for a writer, but also a necessary trait for a tutor. It is important to give the writer time to think, re-think, write, and re-write. When I ask a writer a question during a tutorial concerning a point of clarification or a point of expansion, I have to give them time to consider their response before jumping in with an idea, another prompt, or follow-up question. In a workshop, patience comes into play the same way in the form of "wait time," giving the students enough time to think and formulate an answer after asking a question. Whether it's through a purposeful pause after a question or a "quick write" activity,  providing adequate think time encourages thoughtful participation.
Finally, one of the most important lessons I've learned as a tutor (and coincidentally one of the UCWbL's core beliefs) is that "collaboration among peers is an especially effective mode of learning." This continues to be important as a member of the workshop team. Friday team meetings are perfect opportunities to swap strategies and talk about successful (and less successful) workshops, with the aim to improve our craft and to better help the students in our workshops. I think I've come a long way from my first nerve-wracking Digication tutorial. I've tackled other workshops including Digication design, thesis development, efficiently reading assignment prompts, and business email workshops. With each one I feel more and more comfortable being up in front of a classroom. I look forward to continuing to work with the Workshop team and putting my tutoring skills to work in new settings.