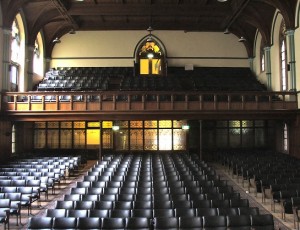 Before the UCWbL opened for appointments two weeks ago, tutors, fellows, and administrators gatheredfor the annual Winter quarter staff retreat. The program changes every year, but usually consists of a series of activities and presentations that encourage UCWbL staff to reflect on different aspects of their work with DePaul writers.
In "Retreating Into the Center: Supporting Faculty and Staff as Writers," Ellen Schendel, a writing center director at Grand Valley State University, describes a very different approach to her staff retreat that I found to be an interesting point of comparison to our own methods.
At our own retreats, after UCWbL staff members gather in a commons area and rouse themselves from sleep with caffeine and a continental breakfast, they are split into small groups for "Conversation Cafe," a casual discussion activity that asks each person to describe his or her approach to a randomly selected tutorial situation. The goal here is to encourage collaborative reflection on different appointment strategies, the point being that there is always more than one way to approach a particular writer or assignment. I find discursive activities like this to be the most applicable to daily work at the writing center, serving as a reminder of the various perspectives on writing center pedagogy that UCWbL staff member learn during their first quarter.
Other retreat activities include the more recently devised "Pub Quiz," which challenges small groups to collaboratively answer a selection of UCWbL and writing center scholarship trivia questions. The event usually concludes with a brief presentation by a fellow UCWbL staff member on a focused topic related to writing center work. This year, tutor Mark B. discussed the vital roles branding and marketing play in creating positive student and faculty perceptions of the UCWbL. This event in conjunction with the Fall retreat in December are the two primary gatherings of all UCWbL staff for discussion and reflection.
In contrast to our discussion and presentation-based approach to staff development, Schendel's project-based retreat is more focused on the individual. Rather than plan a series of team-based activities, Schendel uses the opportunity to foster the writing and research projects of her staff. This optional event takes place over a two-week period in the summer and is open to writing center staff as well as faculty members from other departments.
The group meets in the writing center office, each person working on his or her respective project until lunch. Participants bring in a variety of material including creative work, conference presentations, dissertations, and manuscripts. The goal is to provide staff and faculty with a supportive, distraction-free environment that promotes peer feedback and discussion. Participants are free to use a number of reserved rooms for impromptu workshops. By 4:45 pm, the group ends the day with casual reflection and informal free writing about their progress. Reference books and style guides are readily available for consultation.
Schendel purposely designed the event with a flexible schedule that emphasizes the freedom of each individual writer.
"Consistently, passionately, and unanimously, participants say they do not want time dedicated to structured programming or writing activities."
In her experience, staff and faculty don't necessarily need a push to engage in discourse or provide peer feedback; with a room full of writers and works in progress, collaboration is a natural occurrence. Schendel calls this phenomenon "writing mojo," and points to the "monthly day-long writing sessions" created by University of Massachussettes-Amherst professors Peter Elbow and Mary Deane Sorcinelli as another example of writers' tendency to come together. Watching his assembled writers in action, Elbow observes, "it's a heartening sight: a bunch of serious academics sitting all togethr in a room, writing or sharing writing. There's a certain energy in the air that helps people be productive and creates a spirit that's collegial and supportive." Similar environments already exist in UCWbL writing groups, it's the prolonged time commitment that distinguishes them.
Another interesting aspect of Schendel's retreat is that all participants are required to fill out a "Project Inventory & Goals" worksheet ahead of time, summarizing the work itself, progress thus far, and the goals they hope to accomplish during each day of attendance. This requirement stood out to me because I'm the kind of writer who is easily intimidated by my own lengthy projects, particularly feature-length screenplays and research papers. I often resort to writing scatterbrained to-do lists in an attempt to sort out the tasks ahead, and I feel like Schendel's worksheet would be a more organized, productive alternative.
While Schendel's retreat design certainly lacks the team-building activities that seem to help increase comaraderie among UCWbLers, I think aspects of it could be used to inform some of our events. While I don't think that Schendel's retreat would accomplish the same goals that our current one does, an informalwriter's getaway is worth consideration in other areas. Such an event could serve as a rewarding and productive addition to any of the UCWbL writing groups, or as an inclusive gathering to connect our staff with outside faculty members and other "friends of the writing center."
Works Cited
Elbow, Peter and Sorcinelli,
Mary Deane. "A Faculty Writing Space: A Room Of Our Own." Change, 38.6
(2006): 17-22. Print.